Understanding Online Lurkers
According to a report released by the Internet World Stats regarding internet usage in 2017, approximately 3.7 billion out of the estimated 7.5 billion individuals in the world are internet users. Considering this data, it is essential to determine the online habits of viewers to incorporate the right strategy and approach to digital marketing success.
The 90-9-1 rule in online communities shows that most users do not participate in online discussions. This means that counting online users: 90 percent are lurkers, nine percent contribute to online marketing company, and only one percent participates and account for most contributions. Hence, it is important to partner with a web company that understands this quantity.
A part of Mystech Dynamics Inc. primary goals is to promote and maintain user-engagement. We acknowledge the fact that this is one of the keys to improving search engine ranking and establishing brand authority upturn. Thus, all our packages include quality IT solutions services that deliver globally competitive results.
The Online Lurkers
Lurkers make up a sizeable proportion in online communities, yet little attention is given to cater their online needs. Lurkers are people who compose the "silent majority" in electronic forums such as group discussions and community threads. They barely post and comment on online platforms. Most of the time, they just browse through pages and threads to avoid getting the attention of other users.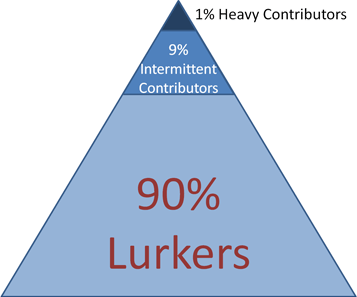 Engaging Online Lurkers with Powerful Web Architecture
Our web design services continues to expand its knowledge of the clients and their interest. We conduct evaluation schemes to ensure that you can reach your target audiences. Listed below are ways to elevate brand authority to capture online lurkers.
Signal-to-noise-ratio
Netizens choose communication channels according to their needs. Many users do not read posts and comments that are irrelevant to them. Filter information posted on your site to keep the interest of the online users. Bear in mind that the more useful information; the more chances of winning online lurkers. For instance, balance the positive and negative comments on your pages. Offer your clients something to look forward to when they avail your products and services. Be sure to address all their needs by keeping an active and responsive domain.
Information Bank
According to the proceedings of the Tenth Americas Conference on Information Systems titled "Online Lurkers Tell Why" 53.9 percent of lurkers are satisfied with just reading and browsing. Hence, it is important to bank on appealing and informative web content. Poor quality and irrelevant information disengages viewers to apply for subscriptions and participate in polls.
Curiosity
Spark interest with the front-runners of your site such as graphics, meta-descriptions, and headlines. When users become curious, they click on links, thus increasing web traffic. Another technique is to target their weak points. Get them to subscribe to your site with an unfailing sense of surprise. They want information but do not give them all at once. Keep them wanting more. Lure them to your site contents.
Emotional Safety
Create a connection with your viewers by incorporating different marketing appeals to your advertising approach. Online lurkers feel the need to belong in communities. Get them to become regular subscribers with compelling web contents. For instance, if your company is about a lifestyle, you can incorporate images that showcase emotional appeal to your campaigns or feature videos of different cultures to ignite participation.
Depending on your target market, lurkers can be valuable participants in online communities – even more so than active web users. Let Mystech Dynamics revamp your web architecture with information-rich contents and appealing designs.